meet laura –  

GYROTONIC® & GYROKINESIS®

 certified trainer

Laura Barbee was born in Tyler, Texas, and spent most of her early years jumping and sweating. At the age of four, she began taking ballet and put that experience to good use. She continued to dance and earned her BFA in Ballet and Modern Dance from Texas Christian University. An introduction to the GYROTONIC EXPANSION SYSTEM® Method came in the summer of 2005 while studying in San Francisco. Injury had been part of the dancing experience for Laura on more than one occasion. It was a respected orthopedic surgeon that advised her to find a modality that she enjoyed and could use as regular practice for body maintenance. (note from Laura: Oh, did I mention that I didn't have to have surgery? Hallelujah!)
Laura dove into the GYROTONIC EXPANSION SYSTEM® Method and found a rejuvenating approach to her own movement. In 2008, a true friend prompted her to begin her process of becoming a certified trainer (she said, "You should get certified. Here's a training course. You're going.").  Throughout her training, Laura has been blessed with teaching opportunities in highly respected settings including, but not limited to: universities, professional training programs, leading GYROTONIC® studios, summer intensives, and classes for six-year-olds. She has also had the unparalleled experience (in her humble opinion) of becoming a mom. Of the countless lessons her son has brought into perspective, one of the fondest is all her own mom has done to allow her the aforementioned opportunities.
~ The people I get to work with have a wonderful range of movement goals and interests. It is with great joy that I choose to teach, move, and live. I am thankful for each new day.
Study: Fort Worth, Atlanta, San Francisco, Miami, New York City, And Los Angeles
Certifications: GYROTONIC® Level I Tower, Leg Extension Unit, Jumping/Stretching Board, GYROKINESIS® Level I
meet krista – laurabarbee.com content manager and curator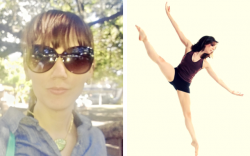 Krista Jennings Langford lives in Fort Worth, Texas where she is a dance artist and educator. She convinced Laura to create this site and blog, and then helped her do it. If you're interested in finding out more about her work, check out her website.
Interested in working with me? Take a look at my services page or contact me for an appointment. enJoy today, laura b